Services
86-27-88189683-813
If pre-sale line is busy, please click on online message, we will contact you ASAP
Monoclonal antibodies
Monoclonal antibodies
Compared to polyclonal antibody, monoclonal antibody directs at single epitope, with the characteristics of stronger specificity, greater sensitivity, in the study of cell surface markers, soluble antigen purification, further study on the structure and function of the antibody, the development of diagnostic reagents, antibody drug research, etc. It plays a very important role.
GeneCreate's custom monoclonal antibody platform, crafted by a number of application design experts and engineering design specialists together, using a variety of immunization routes, various purifications, can provide mice and rat monoclonal antibody services, rapid monoclonal antibody preparation service, serum-free medium monoclonal antibody preparation, guaranteed monoclonal antibody preparation, special monoclonal antibody preparation and other services. Since the establishment of monoclonal antibody platform, we have successfully prepared more than 100 kinds of high-quality monoclonal antibodies for customers.

Platform advantages:
One-stop - provide one-stop antibody service from gene to antigen to antibody;
Application - can screen antibodies according to your application needs and verify the identification of natural sample for you to remove the worries;
Large-scale - provide the most professional and large-scale monoclonal antibody production services to meet the needs of diagnostic mass production;
Strict quality control - Provides ELISA, WB, IHC, IF, IP, ChIP and other basic test, and custom guaranteed antibodies of chemiluminescence, colloidal gold, latex enhanced immune turbid metric, etc. which are applied to clinical diagnosis.

Service contents: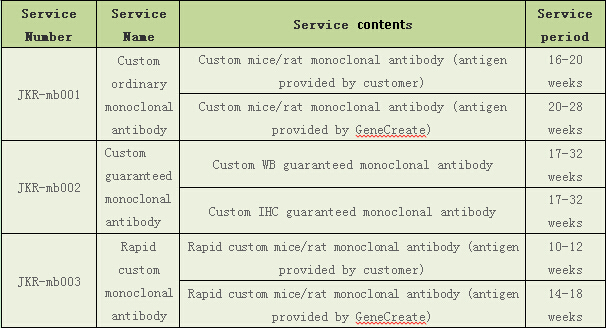 Provided by customer:
Antigen (protein purity is more than 90%, the protein molecular weight is required greater than 10 kDa, soluble protein concentration is between 1-5mg / ml; polypeptide purity is greater than 90%, more than 10 AA, conjugated KLH / BSA / OVA or other carrier protein; for antigen of other types – please consult specifically), also can choose antigen prepared by GeneCreate.


Final delivery:
3-5 strains of hybridoma cell lines and provide the best one strain of 10ml ascites purified antibody, 100μl ascites concentrate, 1ml cells supernatant;
Survey report, including serum titer in mice, the construction of a hybridoma (fusion rate, positive rate), cloning of hybridoma, the specificity detection of hybridoma culture supernatant antibody, as well as the ELISA titer detection of the ascites induced by hybridoma, and according to customer needs, provide antibody verification results, such as ELISA, WB, IHC, IF, IP, ChIP, etc.