Services
86-27-88189683-813
If pre-sale line is busy, please click on online message, we will contact you ASAP
E. coli cells Expression
Compared with other expression systems e. coli expression system as the most common and economical protein expression at present. E. coli expression system has a clear genetic background, high expression level, short cultivation period, strong ability to anti-pollution, it's the essential tool in the molecular biology research and biotechnology industrialization development.
The e.coli expression platform of GeneCreate will provide you a full range of recombinant protein production services, we have a wealth of experience and professional technology in the soluble protein, Inclusions, Fusion protein and other protein service area, we can solve any bottleneck problems in the process of protein expression. So far, we have been provided more than 3000 kinds of proteins to the customers around the world.
Advantages:
1.Let these labels such as His、GST、MBP proceed at the same time, ensure to obtain the top-quality protein
2.Guarantee the protein you purchase from us are common soluble in the buffer
3.Purified protein could be verification by ELISA,Western-blot or other biological activity test
4.Could provide the details of protein expressed and purified steps, conditions, experimental data and bacterial strains
Service contents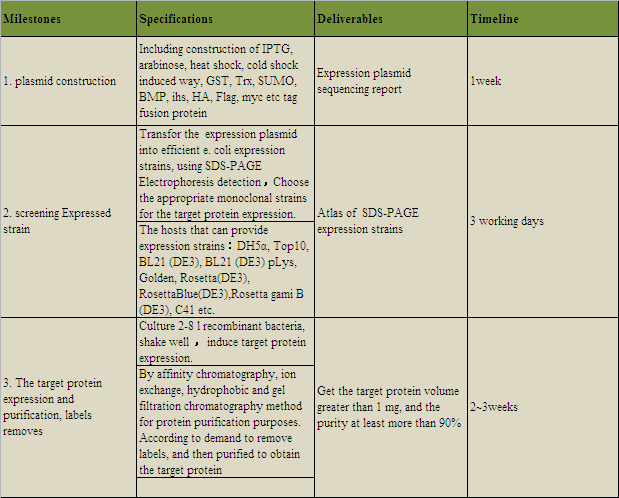 Service Instant
GFP Prokaryotic expression optimization:
GFP protein prokaryotic expression is typically expressed in the form of inclusion body, It's extremely difficult to observed the green fluorescence in common light .Through the study of the mutation of GFP series, promoter selestion, optimization of culture conditions, control expression rate, GFP protein expressed in e. coli, fully expressed in soluble form, thus the green fluorescences are shown in the natural light.
Renaturation conditions screening:
Utilizing 96T plate to make a combination for pH, salt concentration, oxidation reduction, molecular chaperone surfactant or other related factors. Add the denatured protein to microporous plate for dilution method quickly, then screen out the hundreds of operating conditions rapidly.
The below image is adopt the above mentioned methods for the renaturation screening
Of GFP inclusions