Services
86-27-88189683-813
If pre-sale line is busy, please click on online message, we will contact you ASAP
Small Molecule Antigen Service
Small Molecule Antigen Service
Custom small molecule antigen service
The small antigen immune analysis technology is increasingly widespread, so nowadays it has become the precondition and an important matter to synthesize the stable artificial antigens of good immunogenicity for monoclonal antibody preparations and making immunoassays strategies.
Genecreate's small molecule platform has engaged in small molecules complete antigen designs and synthesis for food safety, veterinary drug residue, human and animal diseases diagnosis as well as antibody preparation and development of kits. We have a professional R&D team and
Benefits
l We can modify or synthesize derivatives of small molecule compound as well as provide haptens of different linkers and complete antigens of different carrier proteins.
2 Our monoclonal antibody and kit developing platform is mature and stable. We can provide instrumental testing results of hapten derivatives and complete antigens and the Balb/C mice immune detection results according to the customers' requirements. Besides, we also provide a series of services for monoclonal antibody of small molecule compounds preparations and kits development.
Project

Content

Results of delivery

Delivery time

1.Hapten transformation

Transform the small molecule compounds and provide haptens of different links according to customers'requirements

transformed small molecule derivatives

10-20 business days.

identified results of LC-MS

2.Complete antigen preparation

provide complete antigen of different carrier protein according to customers' requirements.

complete antigen products

15-30 business days.

identified results of SDS-PAGE、UV or MALDI-TOF

3. Mice immune and testing

Make specific detections and titer based on ELISA technology for immune 5 Balb/C mouse at the same time.

Immunity test results

Please inquire
Service instance
We provide hapten derivatives and custom complete antigen service according to different requirements from our customers. Every product related in the process is strictly identified.
1. Our platform can provide the hapten derivatives LC-MS identification results of custom small molecule antigens. Here below is an example. The theory molecular weight of this derivative is around 330, its positive ion mode and negative ion mode molecular weightis are 331.1775 and 329.1525, proving that the hapten derivatives is successful.
M+H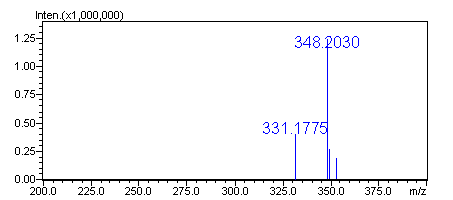 M-H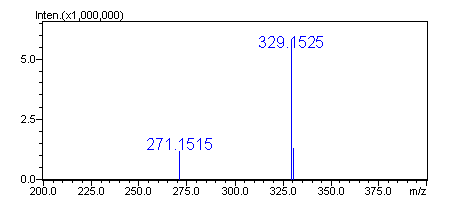 Graph1: the LC-MS identification result of compound.
2. Our platform can provide the UV identification results of the synthesized small molecule conjugates,. Here is an example, the ultraviolet Spectrophotometry result of a small molecule conjugate. The longest absorption wavelength of the BSA, the small molecule compound and small molecule compounds - BSA conjugate are 277nm, 387nm, 370nm. After the coupling reaction, the vectors wavelength of maximum absorption have obvious changes. It is the proof that the coupling is successful.
Black: BSA; Blue: the small molecular compound;
Red: the small molecule compound - BSA conjugate
Graph2: UV mapping of the small molecular conjugate.
3. Our platform provides custom small molecular antigen and monoclonal antibody preparation service. The final developed kits' standard curve regression equation is: y=-0.683x+0.860,r=0.999,the IC50 value is 3.16±0.42ng/mL with the linear range of 1~9 ng/mL.It can betterly meet the residue limit requirements of the small molecule compounds. Below is the standard curves of the kit.
Graph3: the standard curves of a kit

Customer notification:

1. If the customer requires special haptens synthesis or transformation, our platform will make customized experiment steps for him according to the project's complexity so the delivery time may exceed than ever estimated.

2. For the special custom complete antigen, the customer should provide hapten of more than 90% purity. If the purity degree is not qualified and affects the complete antigen's quality, the customer should be responsible for the delay and financial loss that may incur.